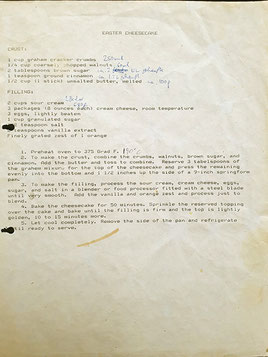 Ingredients:
Crust: 
1 cup graham cracker crumbs
¼ cup coarsely chopped walnuts
2 tablespoons brown sugar 
1 teaspoon ground cinnamon 
½ cup unsalted butter, melted
Filling: 
2 cups sour cream
4 packages cream cheese, room temerature 
3 eggs, lightly beaten 
1 cup granulated sugar 
½ teaspoon vanilla extract
finely grated zest of 1 orange
Preparation:
Preheat oven to 375°F (190°C).
To make the crust, combine the crumbs, walnuts, brown sugar, and cinnamon. Add the butter and toss to combine. Press the graham  mixture evenly into the bottom and also up the side of a 9inch (22cm) springform pan.
To make the filling, process the sour cream, cream cheese, eggs, sugar, and salt in a blender or food processor fitted with a steel blade until very smooth. Add the vanilla and orange zest and  process just to blend. 
Bake the cheesecake for about 60 minutes.
Let cool completely. Remove the side of the pan and refrigerate until ready to serve.