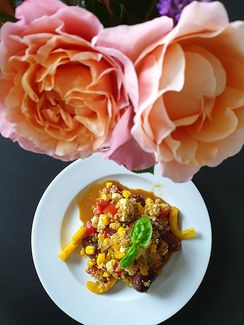 Serves 6 as a side
Ingredients
For the salad:
1 cup organic quinoa, rinsed and drained
1 vegetable bouillon cube
2 cups water
1 cup cooked sweet corn kernels
1 cup cooked black beans, rinsed and drained
1 small red or green bell pepper, de-seeded, de-stemmed and chopped
1 medium tomato, chopped
1/4 -1/2 cup minced red onion
1/2 cup fresh cilantro leaves, washed, dried and coarsely chopped
1/2 cup feta cheese (optional)
For the dressing:
4 Tbsps fresh lime juice, or to taste
2 Tbsps red wine vinegar
4 Tbsps olive oil
1 clove garlic, minced or pressed
1 Tbsp honey or agave
1 tablespoon ground cumin
Sea salt and freshly ground black pepper to taste
Directions
1. Bring the water to a boil with the bouillon cube (or use 2 cups vegetable stock), then stir in the quinoa, lower the heat and reduce to a simmer. Cover for 15-20 minutes until done - you'll know the quinoa is ready when you see the little white "tail" of the germ around the outside edge of each seed. If you're starting to see the little white tails but the quinoa seems too soggy, remove the lid for the last few minutes of cooking. And if the water is all gone but the tails are not visible yet, add a little more water and simmer for a few more minutes, covered. Then remove from heat and set aside to cool.
2. While the quinoa is cooking, you can make the dressing. Place all the ingredients in a jar with a tight fitting lid and shake well to combine.
3. Once the quinoa has cooled down and the dressing is ready, it's time to put it all together. Combine all the ingredients in a large bowl, drizzle with the dressing and toss well to make sure everything is equally coated. Top with more cilantro leaves and if you've got a ripe avocado lying around, cut it up and lay those lovely green slices on top before serving.